Feel the Best About Yourself, Inside and Out
Elite Skin and Body is an innovative, results-driven spa based in Houston, Texas. We use our expertise to deliver effective solutions that fit and exceed your desired skin goals.
We know what it's like to feel insecure about your look and how overwhelming it can feel to try and change it.
Since 2009, Elite Skin and Body MD was created to help people like you find a clear, uncomplicated path to restoring their confidence. We offer relaxing day spa treatments and effective cosmetic procedures.
Choose Our Skin Care Services
Rely on our passionate, licensed skin care specialists at Elite and Skin Body. Our spa uses only the finest products and supplies on the market. We are known for the quality of our skin care services.
Check out our Services page to learn more about our medical-grade services, like waxing, facials, body treatments, peels, microdermabrasion, microcurrent facelift, and other treatments. You deserve the best, and it is our promise to continue providing it.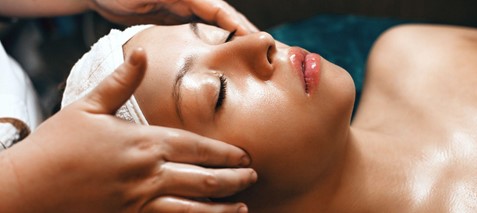 The Boss
Hannah, our spa owner/General manager & licensed esthetician, traveled to many countries at a young age before Houston became home. 
Upon moving to the United States later in life, she began working as a dental technician, helping people achieve amazing smiles for 15 years. After some time in the role, she realized it was time to pursue her passion for skin care in a new career. 
She quickly fell in love with the spa industry and opened Elite Skin and Body in 2009. Hannah constantly looks for ways to develop our spa and provide all clients with the best services and maximum results possible, she values her team hard work and appreciates the clients' trust and business. A message from Hannah:  Our goal is results, affordability and bringing you the best this industry has to offer, we will do our best to meet your expectaions, it is a promise!
Esthetician
Jackie is our Lead Licensed Esthetician that graduated from Aveda Institute. Originally born in Saudi Arabia, Jackie moved to Houston at a young age and has been in Houston for most of her life. She has had experience in the beauty industry for 13 years, and has been with Elite Skin and Body for the past 7 years. She loves to continue her education by researching new treatments and ingredients to treat various skin concerns. A true role model for the rest of the team, she shares all of her knowledge and uplifts the team. Her goal is for guests to leave feeling relaxed and confident in themselves, while continuously building client's knowledge of caring for their own skin.
Esthetician 
Christina, a licensed esthetician, is a graduate of the Institute of Cosmetology, Esthetics, and Massage Class of 2019. She was born in Atlanta, Georgia but was raised in Central Florida.
Before pursuing her passion in skin care, Christina served in the United States Navy. Her passion for esthetics came from her personal struggles with acne and dealing with the aftermath of dark pigmentation for many years.
Because of this, Christina understands the impact of not feeling confident in one's skin. She believes education is of utmost importance and hopes every client leaves feeling more knowledgeable about their own skin care regimen and treatment plan to achieve the best skin of their life!
Esthetician
Born and raised in California, Brooke moved to Houston, TX a little over 6 years ago. She received her Esthetics License from the Aveda Institute in 2021 and has been with Elite Skin and Body MD ever since. Brooke found her passion for skincare through dealing with her own skin issues as a teenager. At every treatment she provides her clients with personalized education on their own skin and inspires them to feel confident in themselves every single day. Clients are guaranteed to walk away feeling rejuvenated, relaxed, and beautiful.
Massage Therapist
Born and raised in Argentina, Carla moved to Houston, Texas around 21 years ago. Growing up, she enjoyed giving her parents shoulder massages, leaving them feeling relaxed and less tense.
Naturally, Carla decided to study massage therapy, graduating from the Houston School of Massage in 2014. She truly believes massage is healing, aiding in taking away the negative effects of stress on the body.
On her time off, she enjoys going to different dining experiences to try new food, spending time with her special fur babies, and traveling around the world. Carla holds the special superpower of relaxation at her fingertips!
Spa Coordinator and Social Media Manager
Maria is both our social media manager and spa coordinator. Originally from Venezuela, Maria has lived in Houston, Texas for 14 years. She is currently attending the University of Houston to earn her Bachelor's in Nursing.
Her passion for skin care comes from her own struggles to find the right products and services to treat her skin. What she enjoys most about her work is being around skin care daily and continuously learning from our estheticians through her research for social media.
She loves watching clients walk out refreshed and relaxed and hearing feedback on different products and treatments that have healed clients' skin and made them feel so much better inside and out.